13th Annual New Years Day - Champagne Dive
Sunday - JANUARY 1st @ 10:00am
We will be hosting our 13th annual New Years Day Champagne Dive!!
Join us for our 13th year of plunging to hunt for a chilled bottle of champagne and show what you are made of by bringing in the New Year with a SPLASH!
We will be meeting at the Stonebridge Marina @ 10:00a with a splash time of 10:30a (or when the tide allows)
Our friends at the Stonebridge Bistro Bar & Grille will be hosting the aftermath with their warm grub and and great refreshments, and provide a warm spot for our friends and family to encourage and enjoy our craziness...
Remember ALL participants must provide their own gear and bring their c-cards for proof of certification.
Please email or call to let us know you'll be joining us for this fun and festive event...
steve@buzzardsbaydivecenter.com / 508-743-5310
**********************************************
ANNOUNCEMENT:
Buzzards Bay Dive Center is announcing the closing of our retail stosing on dive adventure and training.
Through the transition period we will be focused on closing the store but we will have announcements through the website and social media aboure this summer. Specific details of the store closing will follow soon. We are going through a reorganization and transformation. Through this transformation we will evolve focut our upcoming adventures and training opportunities.
LAST DAY OPEN - FRIDAY, JULY 15th
4:00p - 7:00p
Regards;
Stephen Carey (AKA: Scuba Steve)


2017 EVENTS:
Oceanview rooms/ 8 nights sun & fun/ shore diving, wreck diving, Sting Ray City dive, night dives.. did we mention diving.. not a diver, no problem... walking distance to town & gorgeous beaches.. and all the Pirate's week festivities too...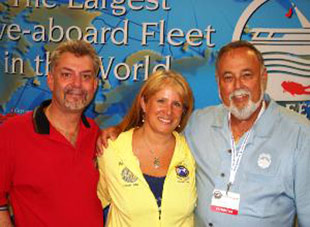 Steve Carey & Lynne Besse w/ Aggressor Fleet President Wayne Hassen at the Beneath the Sea Scuba Dive Trade Show in Secaucus, NJ - March 27-30 2009


Please call or email Steve for details on all of our events


Copyright 2003 Buzzards Bay Dive Center. All rights reserved.
For questions or comments, please contact us.
Site designed by GarandDesigns.